The Mar al Alcance program, from the Uruguayan department of Canelones, won the Construir Igualdad award, granted by CIPDH-UNESCO. Mar al Alcance, an initiative that increases accessibility to beaches, was commended by the panel for being an innovative proposal for people with disabilities to enjoy recreational and public places. Additionally, two honorable mentions were awarded: to Política Pública para las Mujeres of the Santiago de Cali municipality (Colombia) and to Oportunidades para la Vida of Quillota (Chile).
The Construir Igualdad award, introduced in 2018, honors public policies that contribute to building more democratic societies. It seeks to recognize and shed light on inclusive public policies, identifying and documenting experiences that can foster regional exchange and be implemented by local governments in Latin America and the Caribbean (LAC). In its first edition, local policies that promote inclusion and non-discrimination were eligible.
Nominations from Argentina, Brazil, Colombia, Chile, Ecuador, Mexico and Uruguay, from the cities of Bogotá, Buenos Aires, Castelli, Mexico City, Cuenca, Quito, General Villegas, Guarulhos, Lanús, Medellín, Mendoza, Morelia, Montevideo, Posadas, Quilicura, Rosario, Santiago de Chile, Quillota, Rio de Janeiro, San Lorenzo, Santiago de Cali, San Justo, San Luis and São Paulo were received.
31 nominations
25 cities
7 countries
A panel —composed of representatives from UNESCO's LAC Regional Office, ECLAC and CIPDH-UNESCO and two renowned scholars (one specialized in urban planning; the other, in inclusive public policies)— was in charge of choosing the winning policies. Selection criteria included: innovation, social participation, sustainability, effectiveness and yielding concrete results, and potential to be implemented elsewhere.
CIPDH-UNESCO will present the winners with an award plaque and declare the cities "Friendly to local public policies for equality and non-discrimination."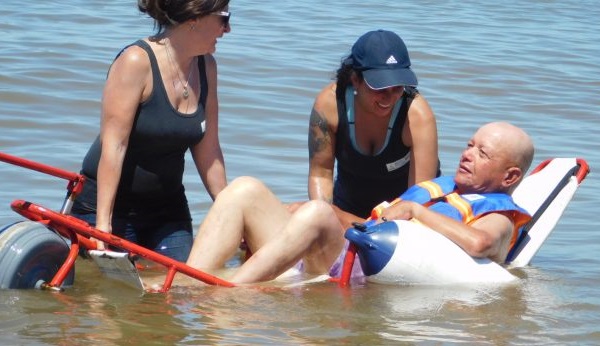 Winning policy
The Mar al Alcance policy, implemented in the coastal city of Atlántida, Uruguay, was recognized because it modifies the public space with an inclusive perspective and, at the same time, it has great potential to adapt to other contexts.
The program consists in installing "accessible beach" areas, equipped with infrastructure designed specifically for people with disabilities and seniors, and which include shade spaces and changing rooms, coastal mats, transfer stations, amphibious chairs, safety elements for bathing in the sea and accessible toilets. In addition, recreation staff, lifeguards, physical education teachers, sport promoters and tourism professionals are available.
The policy's objective, as stated in the application, is to "democratize the beach as a public space to enjoy and spend free time, as a generator of social cohesion and a driving force of coexistence, by strengthening its conceptualization as a space for dialogue, learning and empowerment of inclusive culture." It approaches diversity as a value for contemporary cities.
Honorable mentions
The following two policies were recognized by the panel with honorable mentions, in accordance with the merits detailed below:
Oportunidades para la Vida (Quillota, Chile): a municipal re-entry program for former inmates, recognized for promoting the social integration of a population that has been the victim of prejudices. The initiative contributes to fighting discrimination by making the issue visible, articulating the public policy not only within the prison system, but also through an awareness and education effort with the community and the former inmate's family. The pillar of the policy aims at offering "opportunities of remediation and compensation to men and women who in some way have been affected by dehumanizing systems, with permanent discrimination and a lack of access to education, health, and decent housing, among others, during their entire life." A crucial element of this program are private companies, which provide decent employment as a first step for re-integration.
Política Pública para las Mujeres (Santiago de Cali, Colombia): recognized for its cross-cutting approach to gender equality and for promoting women empowerment at different decision-making levels. The public policy includes participation from the general public, civil society organizations, women scholars' associations and different social actors and is based on eleven core aspects, among them: political participation and representation of women; women, education, communication and culture; and women and the economy.
2019 edition
In April, a new call for nominations to the Construir Igualdad award will be made. Detailed information about the terms and conditions for participation will be published soon on the CIPDH-UNESCO website.