Site
Museum

Theme: Political persecution
Theme: Political persecution
Purpose of Memory
To commemorate political prisoners who were incarcerated in Robben Island maximum-security prison during the apartheid era.
---
Institutional Designation
Robben Island
Date of creation / identification / declaration
1997
Public Access
Free
---
UNESCO Connection
1999: Registered in the UNESCO's World Heritage List.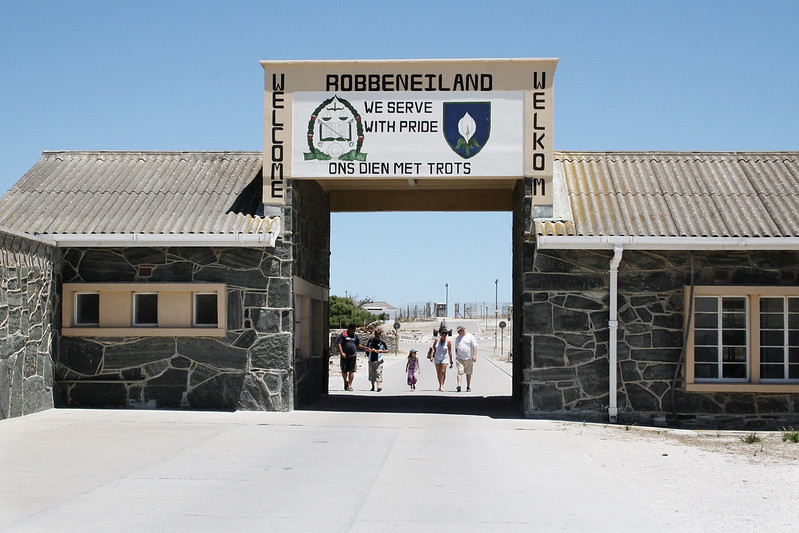 Location description
Robben Island is located 12 kilometers off the coast of Cape Town, South Africa. For decades, it was home to a maximum-security prison where political prisoners were incarcerated during apartheid. Nelson Mandela—the first black president of South Africa, elected in 1994— served 18 years in prison on Robben Island. 
The prison was converted into a museum that commemorates "the triumph of the human spirit over adversity." Tours are guided by ex-prisoners who narrate their own experiences at the prison, including a walking tour along its main building and Section A, where visitors can watch the "Cell Stories" exhibition, which tells the story of the political prisoners who were incarcerated there. The tours include other parts of the island, such as the stone quarry, where prisoners faced forced labor.
In 1652, during the Dutch colonization of South Africa, slaves and prisoners of war were sent to Robben Island, situated opposite to Cape Town, to chop stone and seashell that would then be used to build homes. In 1795, a British military expedition took control of the Cape and continued to use the island as a prison. In 1846, the prison was repurposed into a hospital to isolate lepers and lunatics, most of whom were indigent and black women. Despite the fact that the island was being used for healthcare purposes, it would still receive prisoners. 
Apartheid ("apartness" in the language of Afrikaans)—an institutionalized racial segregation system that existed in certain geographical regions—was established in South Africa and Namibia from 1948 until 1990. In 1959, a maximum-security prison started to operate on Robben Island to incarcerate both ordinary and political prisoners. Prisoners were subject to different food, clothing and working conditions and also to different punishments on the basis of their color, along with a daily routine devised to destroy their humanity. 
Nelson Mandela—an anti-apartheid activist who would later become president of South Africa—was convicted of sabotage and served 18 of his 27 years in prison on Robben Island. In 1967, when the harsh prison system in place was slightly eased, political prisoners were allowed to talk during working hours at a stone quarry situated in other part of the island. The quarry became a place where they could share information, deliver political education to inmates, and write songs to express their grievances against guards. Prior to being transferred to another prison, in 1982, Nelson Mandela had already become an international leader in the fight against apartheid. 
Due to the many strikes, confrontations and international pressure, this segregationist policy gradually weakened and in 1990, the government started to dismantle apartheid, with Nelson Mandela being released from jail and black political organizations gaining legal status. In 1994, South Africa held its first democratic elections. 
The last prisoners abandoned Robben Island in 1991 and the prison was formally closed in 1996. Many ex-prisoners were actively engaged in the post-apartheid political scene, and three of them were elected presidents of South Africa: Nelson Mandela, Kgalema Motlanthe, and Jacob Zuma.
During his administration, Nelson Mandela—elected president in 1994—considered Robben Island as a symbol of reconciliation among the several South African communities and took prompt action to have the site repurposed, according to the requirements of the democratic transition underway. In 1995, a committee was created to develop the project, led by Ahmed Kathrada, who had served a term in prison on Robben Island. In December 1996, the Department of Corrections delivered the site to the Department of Arts, Culture, Science and Technology, which transformed it into a museum one month later. On September 24, 1997, when South Africans celebrate their Heritage Day, Nelson Mandela—a former prisoner on Robben Island and the then president of South Africa—visited the island and proclaimed it a national monument and museum. 
Ex-political prisoners are now part of the Robben Island Museum Council, which has been in charge of administering the island since its inception. Recently, an Ex-Political Prisoner Advisory Committee has been created to help the museum protect, investigate, preserve and showcase the site. In particular, the committee works on educating future guides for them to be able to convey their social memory and experiences to visitors. At present, tours are guided by ex-prisoners, including a walking tour along the prison main building—home to the cell in which Nelson Mandela had been once confined, —and Section A, where visitors can watch the "Cell Stories" exhibition, which tells the story of the political prisoners who were incarcerated there. The tour also includes a visit to the limestone quarry, where prisoners would face forced labor and share information and notes.
Since the elections held in 1994, intangible heritage has been key to South Africa to make visible diverging interpretations of a history which, until then, had been told from a colonial perspective. Oral histories, in particular, are recognized as an integral part of South Africa's anti-colonial heritage. Intangible heritage was formally recognized with the enactment of the South African National Heritage Resources Act of 1999. In this regard, the Robben Island Museum is considered as a tangible and intangible space, in that it displays physical traces of repression, surrounded by words of hope, resistance and human rights. 
In 1999, the museum was proclaimed a World Heritage Site, among other reasons, due to the island's education potential and symbolic power to inspire political and social transformation, not only in South Africa, but also around the globe. UNESCO recognized Robben Island as "role-model of triumph of the human spirit over adversity" for the entire world.
Organization in Charge - Main Referent