Memorial for the Remembrance of the Disappeared-Detainees
Monument

Theme: Political persecution
Address
Vaz Ferreira Park
Theme: Political persecution
Purpose of Memory
To honor the Uruguayan detainees-victims of enforced disappearance during the 1973-1985 military dictatorship.
---
Institutional Designation
Memorial for the Remembrance of the Disappeared-Detainees
Date of creation / identification / declaration
2001
Public Access
Free
---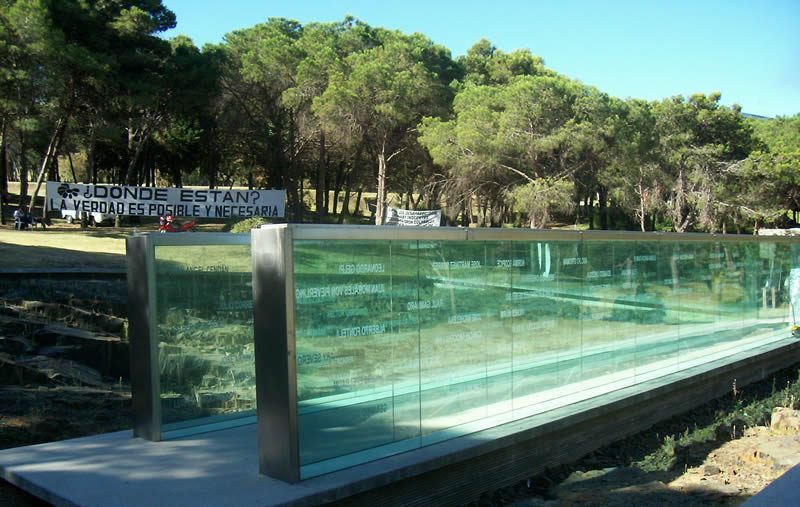 Location description
The Memorial consists of two parallel metal framed walls of glass that stand on two concrete geometric structures where the names of 174 victims of enforced disappearance are engraved.
Throughout the second half of the 20th century, Latin America underwent a period of political instability marked by military dictatorships and authoritarian governments, to fight against Communism in the context of the Cold War. The Uruguayan dictatorship lasted from June 27, 1973, to March 1, 1985. The process was marked by the prohibition of political parties, the declaration of trade unions as illegal entities, censorship on the press and the persecution, imprisonment, murder and enforced disappearance of opponents to the regime.
In 2000, the Commission for Peace (COMIPAZ), an investigation commission created by President Jorge Batlle, was created to investigate the fate of detainees-victims of enforced disappearance. For the first time, the State recognized that torture, illegal detention in clandestine centers and enforced disappearance were acts committed by state agents.
In the late 1990s, different organizations submitted a proposal to create a monument dedicated to the recent past in Uruguay. The proposal to create a memorial to honor the victims of enforced disappearance (first submitted by a representative of the Colorado Party) was resumed in 1998 by the government of the Montevideo Municipality and the Association of Mothers and Family Members of Uruguayan Detainees-Victims of Enforced Disappearance. The construction of the memorial was promoted by the Pro-Memorial Commission of Detainees-Victims of Enforced Disappearance, formed by members of different political parties and different churches. The following year a contest was made and architects Martha Kohen and Ruben Otero won the first prize for a proposal inspired in the Vietnam Veterans Memorial in Washington DC (USA). The memorial symbolically represents the will to bring to light the truth about the final fate of the victims of enforced disappearance. At the same time, it offers a space for the family members of the victims of enforced disappearance to honor their loved ones. The site was chosen for three reasons: firstly, it is located in a working class area, a population that was particularly affected by the de facto government. Secondly, it is located near the Rio de la Plata river, where thousands of people of the neighboring country Argentina, along with some Uruguayans, were thrown during the last military dictatorship in said country. Finally, placing the monument in the Vaz Ferreira Park allowed people to notice it and prevented it from getting lost in the urban landscape.
The monument received awards at the Architecture Biennials of Quito (shared award) and São Paolo. It was declared of National Interest by the Executive Branch in 2000 and National Historical Monument in 2014.
Organization in Charge - Main Referent