In the framework of the World Day Against Trafficking (July 30)
Within the framework of the World Day Against Trafficking (July 30), awards were given to the feminist activist and writer Sonia Sánchez; the head of the "Returning Home" Foundation, Isabel Soria; to the Commissioner Fabiana Cuesta and to the audiovisual producer and documentary maker Gustavo Adolfo Carbonell, from Trama al Sur.
At the opening of the ceremony, the CIPDH-UNESCO's Director, Fernanda Gil Lozano, read fragments of a poem by Paloma Chen, a Spanish and Chinese poet and journalist who was awarded the II Living Poetry Prize of 2021, received at the Royal Spanish Academy.
She expressed "… today I want, from the CIPDH, to recognize brave and committed workers of equality like Sonia, like Gustavo, like Isabel, like Fabiana. The current challenges are related in a capricious way, bringing to the contest those who have everything and those who have nothing, except their convictions. I am convinced that the solution to any problem passes through the integration of all wills and the awareness that absolute truth does not exist … "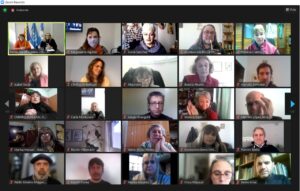 TRAFFICKING PEOPLE IS A SERIOUS CRIME AND A SERIOUS VIOLATION OF HUMAN RIGHTS
Every year thousands of men, women and children are trafficked in their own countries and abroad. The United Nations Office on Drugs and Crime (UNODC), as guarantor of the Convention against Transnational Organized Crime and the related Protocols, assists States in the application of the Protocol to Prevent, Suppress and Punish Trafficking.
In its article 3, this Protocol defines trafficking as the recruitment, transport, transfer, reception or reception of people, resorting to the threat or use of force or other forms of coercion, kidnapping, fraud, deception, abuse of power or a situation of vulnerability or the granting or receipt of payments or benefits to obtain the consent of a person who has authority over another, for the purpose of exploitation. This exploitation includes the exploitation of the prostitution of others or other forms of sexual exploitation, forced labor or services, slavery or practices similar to slavery, servitude or the removal of organs.
In September 2015, the 2030 Sustainable Development Agenda adopted goals and targets on human trafficking.
These goals call for an end to trafficking and violence against children, as well as the need to take action against human trafficking, and strive to eliminate all forms of violence and exploitation of women and girls.
The World Day Against Trafficking was proclaimed by the United Nations General Assembly in resolution A / RES / 68/192.
Along with bonded labor, forced labor, sexual exploitation, and child and forced labor and marriage, human trafficking is one of the 6 types of modern slavery.
GLOBAL ESTIMATES ON MODERN SLAVERY
The global estimates on modern slavery are presented as a contribution to the Sustainable Development Goals (SDGs), in particular Target 8.7, which calls for effective measures to end forced labor, modern slavery and human trafficking people, in addition to child labor in all its forms.
This includes:
Eliminate all forms of violence against all women and girls in the public and private spheres, including trafficking and sexual and other types of exploitation (SDG 5.2)
Eliminate all harmful practices, such as child, early and forced marriage, and female genital mutilation (SDG 5.3)
Eliminate child abuse, exploitation and trafficking (SDG 16.2)
Facilitate the orderly, safe and responsible migration and mobility of people, including through the implementation of planned and well-managed migration policies (SDG 10.7)
WORLD FIGURES
An estimated 40.3 million people are victims of modern slavery
Of the 40.3 million victims:
24.9 million people were subjected to forced labor
15.4 million people were living in a forced marriage to which they had not consented. That is, they endured a situation that implied having lost their sexual autonomy and often entailed the provision of tasks under the pretext of "marriage.
Women and girls are affected by modern slavery, reaching 28.7 million, that is, they represent 71% of the general total of victims.
Women and girls represent 99% percent of the victims of forced labor in the commercial sex industry. Out of every 4 victims of modern slavery, 1 is a child.
37% (5.7 million) of people forced to marry are children.
Children represent 18% of people subjected to forced labor exploitation.
Children subjected to commercial sexual exploitation (where the victim is a child, without necessarily using force) represent 21% of the total victims of this category of abuse.
Almost 90 million people were subjected to some form of modern slavery for at least a few days.
SOURCE: INTERNATIONAL LABOR ORGANIZATION (2016)