ON SATURDAY, NOVEMBER 2 THE EXHIBITION ON THE CONADEP'S WORK INAUGURATES IN THE ORGANISM BASED IN THE MEMORY AND HUMAN RIGHTS SPACE -EX ESMA- THAT KEEPS CUSTODY OF THE KEY FILES FOR THE MILITARY BOARDS TRIAL IN ARGENTINA.
The exhibition "The Nunca Más Report: the power of an archive" covers a selection of minutes, records, letters, files and reports, among other little-known documents that served as input to the historic report of the National Commission on the Disappearance of Persons (CONADEP, for its Spanish acronym). The Commission worked between December 1983 and September 1984 and was key to the development of the Trials to the Military Boards that led the last Argentine dictatorship (1976-1983).
Before arriving at the ANM, the exhibition was shown at the Haroldo Conti Memory Cultural Center (ex ESMA), at the National University of Mar del Plata (UNMDP) and at the National University of the South (UNS) in Bahía Blanca.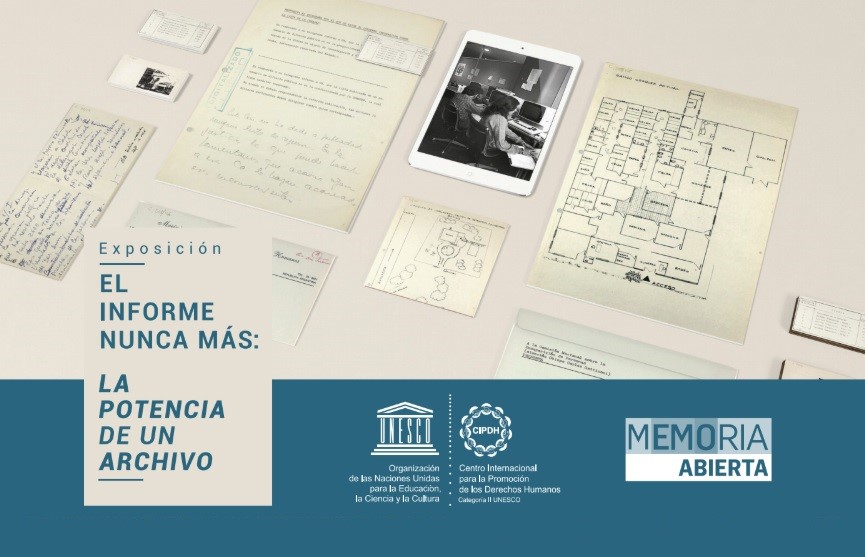 Legacy of the CONADEP archive
Product of the joint work between the CIPDH-UNESCO and the civil society organization Memoria Abierta, the exhibition was first shown in March 2018 at the former ESMA, in the framework of the international conference "Archives and human rights: an agenda for democratic strengthening ", organized by the CIPDH-UNESCO.
The CONADEP archive, preserved today in the National Memory Archive, was crucial to the fight against impunity and constitutes an emblematic legacy of the transition to democracy in Argentina.
Due to its authentic and irreplaceable nature, CONADEP's documentary fund was and continues to be the support of national and international judicial investigations. Since 2007, it has also been part of the UNESCO Memory of the World register.