INTERNATIONAL WOMEN'S DAY is a time to highlight their acts of courage and determination and celebrate the goals achieved, but also to reflect on pending issues and insist on consolidating necessary changes.
INTERNATIONAL WOMEN'S DAY is a time to highlight their acts of courage and determination and celebrate the goals achieved, but also to reflect on pending issues and insist on consolidating necessary changes.
Women continue to suffer from stereotypes marked by an increasingly complex society. Therefore, it is time for them to experience and see the transformations they deserve, to be better listened to and have more opportunities to access education and achieve the possibility of modifying their reality so that it is safer and where we can verify, in a comprehensive manner, the end of the violence against them. As we know, improving legislation is important but not enough.
The prevention and treatment of violence against women is substantial because, despite the fact that regulations were approved to prohibit it, complaint procedures were created and training was provided in high governmental powers to process cases, pressures and social practices continue hindering their complaints and their search for justice and protection. In this sense, seriously addressing the barriers that exist within each community, no matter how small, is critical to success.
We cannot ignore that violence against women occurs, that rape conviction statistics are generally very low, and that abuse at home is still considered a domestic problem and not a criminal one.
Similarly, human trafficking is more prevalent in societies where gender equality is less evident and although anyone can become a victim of trafficking, the majority of them are women and girls forced into slavery or servitude, or sectors of the informal economy including prostitution, domestic work, agriculture, the textile industry or street begging.
By recognizing violence against women as everyone's problem, we can change. We must work together. Insist on acting by saying no to violence against women and yes to their empowerment. Indeed, it is essential that this strengthening be the center of solutions.
This must be supported with an active commitment. It is not a women's problem but a social issue.
There is evidence that solidarity and community action regarding this type of violence works if cruelty, sexism and discrimination are fought against. Thus, by implementing prevention and response mechanisms, we will have a great impact on the pace of change. It is key to educate and understand what are the problems related to violence and what the necessary steps to develop transformation strategies.
For all of the above, those who occupy spaces of power must consider and apply theoretical models on abuse and change, maximize impact on the media sphere and, more importantly, consider men and children within the solution.
It is urgent to promote the right of women to make decisions in all areas of their lives and to guarantee their safe participation.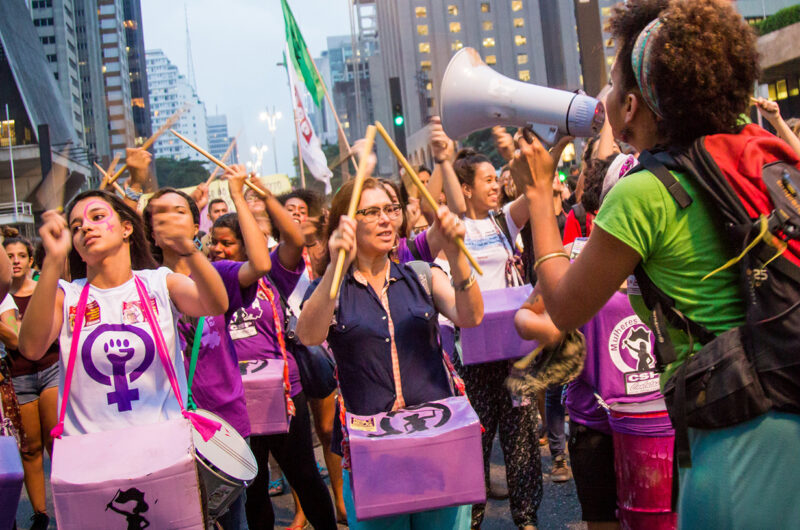 Among pending issues, we bear in mind that thousands of women have been excluded from exercising their skills in areas of their interest and from obtaining leadership positions and that, even today, they must strive to achieve the desired parity in all areas of their performance.
We take into full account the theme chosen by UN Women for this year: Women leaders: For an equal future in the world of Covid-19 that "… celebrates the enormous efforts made by women and girls around the world to forge a a more egalitarian future and recovering from the pandemic … "
Despite the achievements, there is concern that the pandemic has accentuated existing gender disparities by causing a reversion to traditional roles that affected and negatively affects the health of many women with long-term psychophysical and socioeconomic consequences.
The worsening of gender inequality also increased due to the lack of support services that previously allowed women to work. With the suspension of many caregiving tasks — such as childcare, elderly care, and housework assistance — the additional demands at home fell disproportionately on them.
For women who were able to keep their jobs, additional stress is expected in balancing work and home, resulting in decreased work productivity, especially in health care professions and service-oriented jobs with exposure associated with COVID-19.
In addition to bearing the brunt of the social and economic losses of the pandemic, women have been disproportionately affected in terms of their well-being.
Today women, especially adolescents and young women, need to undergo a transformation that requires equality in terms of respect and promotion of their capacities so that they define their priorities and make their own determinations. These achievements are difficult to quantify since it is about renegotiating power relations, but their strengthening will allow the expansion of their potential to make vital strategic decisions in contexts in which their capacity was previously denied.
We celebrate International Women's Day by claiming the value of feminism and the ratification of global agreements and international instruments that Argentina is committed to assuming for the defense and promotion of girls and women's rights.
We work so that the demands of women continue to become public policies to combat gender inequality and we call to reflection so that their recognition has the correct dimension and that the expected changes translate into justice and the full exercise of their rights.