Today, the battle over rights, equality and justice for women is commemorated. Although women's rights are globally recognized and important improvements have been made, there is still an undeniable disparity among men and women in all areas.
Today, the battle over rights, equality and justice for women is commemorated. Although important improvements have been made, there is still an undeniable disparity among men and women in all areas. This can be noted from the United Nations (UN) report which shows that women rank lower than men in all sustainable development indicators.
This day has its institutional origin in August 1910, in the II International Socialist Women's Conference that took place in Copenhagen, Denmark. It was then established that this would be a day "to campaign for women's right to vote and their political emancipation". Since then, much has been improved and demands have been extended to new areas. International recognition came in 1977, when the UN General Assembly proclaimed March 8th as the International Day for Women's Rights. In 2011, advancement was made when a specific organization was created, UN Women, which aims at improving the life conditions of women and responding to their needs. Today, gender equality is one of the 17 goals of the 2030 Agenda for Sustainable Development.
A key aspect of inequality is the labor gender gap. The International Labor Organization (ILO) and the UN consider that social justice (which includes decent employment and equal opportunities) is essential to reach sustainable development. This means that economic growth is not enough. It is necessary to take different actions to achieve gender equality. Disparity is significant. At a global level, there is a salary gap of 23% between women and men, to which the unbalance in time dedicated to domestic work and unpaid care –women continue to dedicate 2.6 more times than men– must be added. Further evidence of gender inequality is the difference in the activity rate, that is, of economically active people who are employed. In men, it amounts to 94%, whereas in women it represents 63%.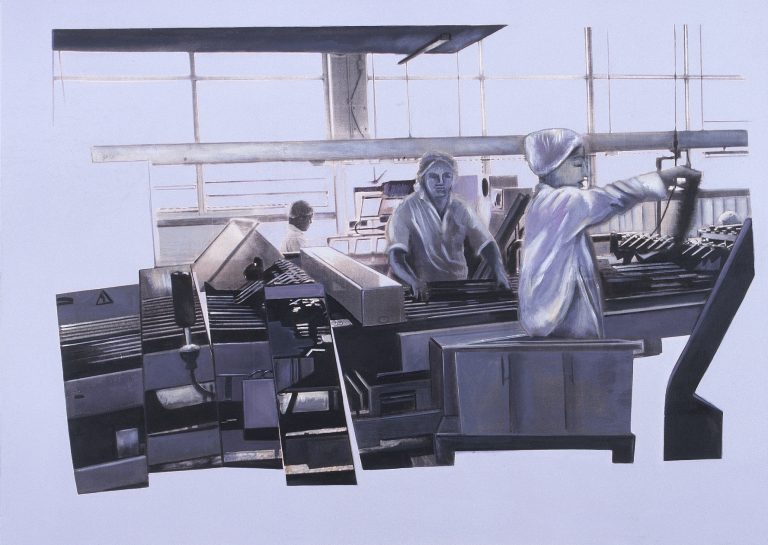 Gender equality in the global agenda
The movement for women's rights grows worldwide. In addition to the #NiUnaMenos movement, which started in Argentina and extended to Latin America, movements against violence and sexual harassment such as #MeToo in the US, #QuellaVoltaChe in Italy and #BalanceTonPorc in France have emerged. Complaints are diverse but they mostly demand specific public policies to attend to women-specific vulnerabilities.
The UN established a specific goal –"to achieve gender equality and empower all women and girls"– in the 2030 Agenda for Sustainable Development. There it is stated that gender equality "is not only a fundamental human right, but also the necessary foundation to achieve a peaceful, prosperous and sustainable world."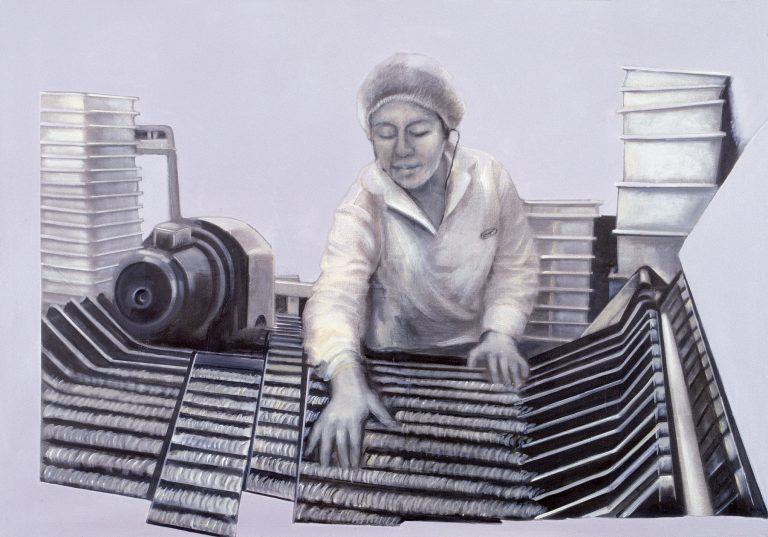 Representing the working woman
María Rosario worked in a cookie factory in Argentina. Every day she woke up very early and spent her working hours with male and female coworkers and a sweet aroma. In addition to carrying out tasks worthy of Chaplin's Modern Times, María Rosario was a union delegate. Her story was told in the pictorial exhibition "A day in the life of María Rosario, worker" (2008) of the Argentinian artist Diana Dowec. Some of the works that were part of the exhibition illustrate this publication.
"I chose María Rosario because I wanted to shed light on the important role that women are playing in social struggles, in solidarity activities", Diana Dowek explained in an interview. At the time of the exhibition, Rosario was thirty five years old and had been a delegate for ten years. Among her goals, she had achieved a forty-minute break for a hot meal (replacing a pastry and mate cocido) and a daycare center with specialized teachers. Shortly afterwards, she was fired due to her union activities.
Dowec accompanied Rosario at her home and work, and photographed her in different situations. Then she worked plastically on these photos: she created textures, eliminated some colors and added others. When the factory's HR department asked Dowec why she wanted to visit the factory, she realized that it was because of the lack of working women within Argentinian art. By then, her goal was clear: create documentary-style artwork to portray the life of the protagonist and her female and male coworkers, with their hardships, demands and fulfillment of rights.